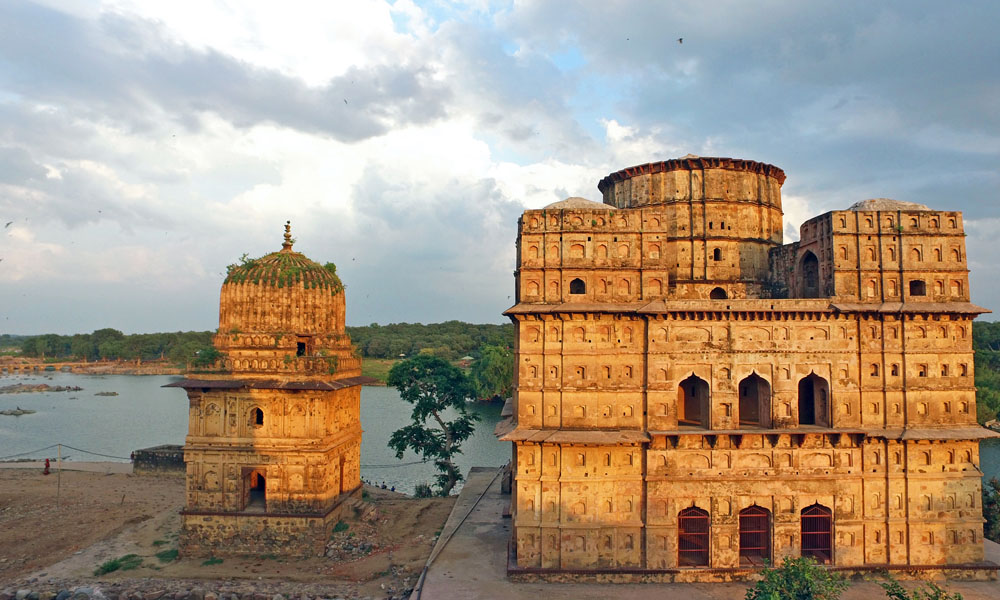 Day 1: Arrival in New Delhi
After the formalities of customs, our representative will welcome you at the Delhi airport to greet you on arrival in India. Transfer to the hotel. Registration formalities at the hotel and overnight in Delhi.
 Day 2: Visit New Delhi and Old Delhi
After breakfast, Visit Old Delhi. Pass through Red Fort and visit Jama Masjid mosque in monuments are unavoidable. You can also visit Chandni Chowk bazaar and its many as Spice Market, the market papers, jewellery etc. Later, at the option of visiting New Delhi: The Qutub Minar, the "Tower of Victory", also the highest stone tower across India, the imposing the "India Gate" and Rastrapathi Bhawan, the residence of the Viceroy has now become ministerial buildings and the Laxmi Narayan temple where Gandhi used to come and worship. Return to your hotel and Night stay in Delhi.
Day 3: New Delhi – Jhansi (by Train) – Orchha by Car
Early morning transfer to Delhi railway station for Jhansi. Arrival from Jhansi railway station and transfer to Orchha. Arrival in Orchha and check-in hotel. After check-in visit Laxminarayan temple, this temple displays a perfect and unique mix of temple and fort architecture. Though the temple is dedicated the Goddess Laxmi.
The Chhatris or the cenotaphs in orchha are another of the many historical tourist attractions in Orchha. These are memorials of the rulers of the Bundels and are laid down in a row of 14 along the beautiful banks of the Betwa River. It reflects a wonderful sight though to some it looks uncanny.
Visit Chaturbhuj Temple; decorated with various symbols of religious significance, this majestic temple is mounted upon a giant stone platform and reached via steep stairs. Admire the subtle ornamentation of the exterior and step foot inside to see the high, vaulted walls that imbue a sense of sanctity and peace of mind. Spend some free time to walk around (perfectly safe) and soak up the blissful vibe of this beautiful historic cum religious hidden village. The atmosphere in Orchha is far more laid-back and hassle-free. Walk down to river Betwa to witness the photo perfect view of the sun go down behind chhatris from the sun set point. Night stay in Orchha.
Day 4: Orchha – Agra via Gwalior Fort
After breakfast drive to Agra via Gwalior Fort, Gwalior Fort is a hill fort in Gwalior, Madhya Pradesh, central India. The fort has existed at least since the 10th century, and the inscriptions and monuments found within what is now the fort campus indicate that it may have existed as early as the beginning of the 6th century.
Arrival in Agra and visit the magnificent Agra fort (Another creation of emperor Akbar) offering gorgeous views from its lofty walls, and the Itmad-ul-Daulah, an exquisite tomb to a persian adventurer. Night stay in Agra.
Day 5: Agra – New Delhi  
Early morning pickup from hotel for Sunrise visit of Taj Mahal. This time of the day is the least crowded and affords the visitor very peaceful and tranquil experience of the world most romantic site.
After breakfast drive to princely capital Jaipur takes you via Emperor Akbar deserted city of Fatehpur Sikri, an almost perfectly preserved 400 years old Mughal capital. After admiring its palaces and pavilions. We continue to Jaipur. Night stay in Jaipur.
Day 6: Jaipur City Tour
Proceed for a morning excursion to Amber Fort. Elephant ride ascent to the fort.
AMBER FORT PALACE – Amber is the classic romantic Rajasthani fort palace. Its construction was started by Man Singh I in 1592, and completed by his descendent Jai Singh I. Its forbidding exterior belies an inner paradise where a beautiful fusion of Mughal and Hindu styles finds its ultimate expression. Continue sight-seeing CITY PALACE – A delightful blend of Mughal and traditional Rajasthani architecture, the City Palace sprawls over one-seventh of the area in the walled city. It houses the Chandra Mahal, Shri Govind Dev Temple and the City Palace Museum, JANTAR MANTAR – This is the largest and the best preserved of the five observatories built by Jai Singh II in different parts of the country. This observatory consisting of outsized astronomical instruments is still in use. HAWA MAHAL – The ornamental facade of this "Palace of Winds" is a prominent landmark in Jaipur. Their five-storey structures of sandstone plastered pink encrusted with fine trelliswork and elaborate balconies. The palace has 953 niches and windows. Built in 1799 by Pratap Singh, the Mahal was a royal grandstand for the palace women.
Day 7: Jaipur – Delhi by Road  
After breakfast drive to New Delhi. Arrival in New Delhi and transfer to international airport as per your flight schedule.